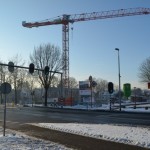 't HARDE – Vanaf vorig jaar juni wordt er druk gebouwd in het nieuwe Centrumplan in 't Harde. Inmiddels zijn de eerste vier nieuwbouwwoningen aan de Singel al in de verhuur en wordt er momenteel gebouwd aan de winkels en appartementen van fase 1. In dit plan komen op de begane grond diverse winkels, waaronder een supermarkt en daarboven in totaal 36 appartementen, in twee bouwlagen. Ook in voorbereiding is de nieuwbouw van 3 eengezinswoningen aan de Singel.
De appartementen in fase 1 betreffen 10 huur en 26 koop.
De huurappartementen, gelegen aan het Centrumplein, zijn op dit moment alle toegewezen. De koopappartementen zijn in verschillende soorten en maten, waardoor ze voor een breed publiek toegankelijk zijn. Zowel jongeren als ouderen, alleenstaanden of stelletjes kunnen hierdoor in het levendige en sfeervolle centrum van 't Harde hun geliefde woonplek creëren. De variatie is ook in de prijzen terug te zien, het goedkoopste appartement kost ruim € 139.000,=, de duurste komt op € 238.000,= alle vrij op naam.
Van de koopappartementen komen er 11 aan de Eperweg en 15 aan de Oldenboschweg. De appartementen liggen rondom een groot parkeerdek dat bereikbaar is via een hellingbaan aan de kant van de Oldenboschweg en uitsluitend toegankelijk is voor de bewoners van de appartementen. Een aantal appartementen heeft elk standaard een eigen parkeerplaats, bij de andere appartementen bestaat de mogelijkheid een parkeerplaats te kopen of te huren.
,,Naarmate de bouw van de winkels en appartementen vordert, willen we de mogelijkheid om informatie te krijgen vergroten", zegt Patrick Vos, senior-projectleider bij UWOON. ,,De beperkte openstelling tot nu toe willen we veranderen. Met ingang van de komende maand is het infocentrum wekelijks elke dinsdagmiddag en donderdagmiddag voor het publiek geopend. Belangstellenden kunnen dan naar binnen lopen om de gewenste informatie over de koopappartementen op te vragen en kan eventueel een brochure meegenomen worden. Afhankelijk hoe het loopt bekijken we na enige tijd of de openingstijden al dan niet aangepast moeten worden. Behalve het infocentrum kunnen belangstellenden natuurlijk ook op onze website kijken of anders bellen met UWOON", aldus Patrick Vos.