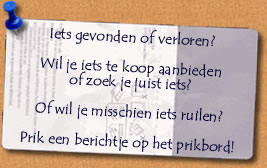 Sinds vandaag heeft deze website een nieuwe pagina erbij: het prikbord! Deze pagina heet zo omdat het eigenlijk is te vergelijken is met de prikborden die nog wel eens bij supermarkten hangen. Op deze prikborden kunnen particulieren briefjes hangen met oproepen. Vaak ging dit dan om vermiste sleutels of huisdieren, mensen die een bijbaan zochten of die hun diensten aanboden. Het prikbord op tharde.com is eigenlijk een digitale versie hiervan.
Hoe werkt het?
Het is heel simpel. Het enige wat je nodig hebt is een account op Facebook, LinkedIn of een Google+ account. Onderaan de prikbordpagina kun je inloggen via deze websites. Nadat je via één van deze websites in bent gelogd krijg je een popup waar je het prikbord moet autoriseren. Als dit is gedaan word je terug gestuurd naar tharde.com en ben je ingelogd! Je kunt nu een titel invoeren, de tekst in het bericht en een foto toevoegen (maximaal 1MB). Vergeet niet een categorie te selecteren en druk nu op "nieuw bericht". Er is nu succesvol een bericht op het prikbord geplaatst! Op het moment dat het bericht overbodig is geworden kan de opener van het bericht het zelf ook weer sluiten.
Helaas is plaatsen van berichten op het prikbord niet mogelijk voor gasten, gasten kunnen wel reageren onder nieuwsberichten op de voorpagina.
Wat is niet de bedoeling en wat wel?
Het prikbord is niet bedoeld voor grootschalige handel. Het is bedoeld voor particulieren die bijvoorbeeld;
Iets verloren zijn

Iets weg willen geven

Iets willen (ver)kopen of ruilen

Een oproep willen plaatsen
Dus ga snel naar het prikbord en plaats je oproep!
Vragen, suggesties of problemen? Neem dan contact op via de contactpagina.