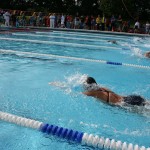 Vanaf vrijdag start Zwem en Polo Club "de Hokseberg" weer met haar trainingen in het buitenbad van 't Harde: De Hokseberg.
Om jong en oud kennis te laten maten met onze vereniging hebben we tijdens de zomermaanden een speciale "kennismakingsaanbieding".
Voor een bedrag van € 38,85 kan een ieder in de periode van 1 mei t/m 11 september meedoen aan de trainingen van de zwemclub, je mag dus 2 maal per week trainen.
De dinsdag- en donderdagavond zijn voor de volwassen zwemmers, zwemmers onder 12 jaar zijn op woensdag en vrijdag welkom, boven de 12 jaar op dinsdag en vrijdag. De training duurt van 19:30 uur tot 20:30 uur, in het hoogseizoen is dit van 20:00 uur tot 21:00 uur. De aanbieding loopt na deze periode automatisch af en je zit daarna niet vast aan een lidmaatschap van onze vereniging.
Kortom: wil je graag je baantjes zwemmen, naar lukt dit niet altijd door bv. de drukte in het bad?
Wil je graag je techniek verbeteren met behulp van een trainer? Of heb je iemand nodig die je begeleid tijdens het zwemmen om bijvoorbeeld je conditie te verbeteren?
Dan is dit een uitstekende kans om dat tegen een scherpe prijs te doen! Let op: diploma A of enige zwemvaardigheid is wel een vereiste om mee te kunnen doen aan de training.
Nieuwsgierig geworden? Kijk dan snel op http://ww.dehokseberg.nl/zomerzwemmen voor de voorwaarden, meer informatie en het aanmeldingsformulier.
Contact met ons opnemen kan natuurlijk ook: trainers@dehokseberg.nl