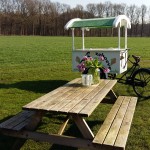 In Maart dit jaar een ijsboerderij gestart genaamd; de Rozehoeve.
Wij maken schepijs, gemaakt van de zuivel van onze koeien. Wij gebruiken natuurlijke grondstoffen, en vers fruit. Ook maken wij sorbet ijs (ideaal voor mensen met koemelk allergie) en allergenen vrij ijs.
Ook hebben wij een ijsbakfiets daarmee venten wij in 't Harde en omstreken. Per 16 mei a.s (2e pinksterdag)openen wij onze ijs salon aan de stadsweg 11 't Harde.
Wij gaan eerst een aantal middagen per week open en de zaterdagen vanaf een uur of 11.
Mensen kunnen hier een heerlijk ambachtelijk ijsje komen eten, of genieten van een lekker kopje koffie/thee met uitzicht op het oude bos. Kinderen kunnen lekker komen spelen in onze speelweide. Ook lopen er wat dieren in de wei.
Op 16 mei is iedereen welkom op onze opening. Deze dag zijn wij open vanaf 10 uur.
Willen jullie meer weten? Neem dan eens een kijkje op onze Facebook pagina. De Rozehoeve.