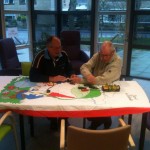 't HARDE – Het Kluscafé is gestart. Onder het motto ''weggooien kan altijd nog!'' stonden er op donderdag 9 januari van 9.00 uur tot 11.30 uur enthousiaste vrijwilligers klaar in het wijk- en ontmoetingscentrum in 't Harde om te helpen bij kleine reparaties aan keukenmateriaal, kleding of houtwerk.
In de loop van de morgen druppelden de mensen binnen binnen bij het Kluscafé met een diversiteit aan vragen. Er kwamen dorpbewoners die hun jas kwamen maken en anderen met lampen en stofzuigers en verlengsnoeren die weer aan de praat geholpen moesten worden. Kortom een mooi resultaat voor de start van het Kluscafé.
Het kluscafé is er voor iedereen die vragen of defecte apparaten heeft. Rolt uw stofzuigersnoer niet meer op of is het plateau van uw waterkoker defect? Ook met kleding stukken haakwerk of andere vragen kunt u terecht bij het Kluscafé.
Maar er is meer, onder de enthousiaste vrijwilligers ontstond het idee om tijdens het Kluscafé te gaan handwerken. Hierdoor wordt het mogelijk om onder het genot van een kopje koffie, ervaringsdeskundigen vragen te stellen en patronen uit te wisselen.
Iedere even week in 2014 zal het Kluscafé de deuren openen van 9.30 uur tot 11.30 uur. De eerst volgende keer vind plaats op 23 januari. Alle reparaties zijn op eigen risico.
Voor meer informatie kunt u kijken op www.wiel.nl of in het Jeanne d' Arc programmaboekje.
Kent u zelf nog iemand die handig is met zijn handen en zijn kennis en talenten in wil zetten voor het kluscafé? Dan kunt u hem of haar aanmelden bij Derk-Jan van Putten ( dj.vanputten@wiel.nl) of bel met 0525-681212.