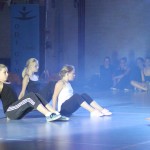 In 2017 viert gymnastiekvereniging ODI 't Harde haar 50-jarige bestaan. De vereniging is door de jaren heen een gezellige, leuke en leerzame vereniging geworden met veel senioren en veel junioren. De senioren houden in 4 groepen hun conditie met Fitgym op peil. Een van deze groepen is haar vaste begeleider kwijt geraakt en is nu naarstig op zoek naar iemand die hen goed aanvoelt en een leuke sfeer weet te creëren en hen in shape houdt. De kleuters zoeken een lieve juf of meester die hen de basis lichaamsoefeningen onder de knie weet te brengen. En dan de streetdancers. Zij hebben een paar wisselingen meegemaakt en eind maart stopt hun leidster en zij willen zo graag verder met hun prachtige dansen.
Reeds jaren is ODI een erkend leerbedrijf en aangesloten bij Calibris, zodat er ook ruimte is voor stagiaires en assistentie. ODI biedt een gezellige, leuke en leerzame werkomgeving met veel ruimte voor eigen initiatief en een financiële vergoeding.
Wilt u meer informatie? Kijk op www.odigym.nl of bel Gert van Heun 0657930676.