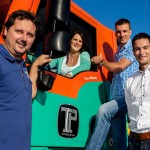 Business Club 't Harde en Rabobank Noord Veluwe trappen af met Prinsjesdagbijeenkomst. Op woensdagavond 16 september start Businessclub 't Harde samen met Rabobank Noord Veluwe aan het nieuwe seizoen. "Samen met onze leden hebben we gewerkt aan een mooi programma voor het seizoen 2015/16. Er staan alweer een stuk of 8 bijeenkomsten op de rol met goede sprekers, mooie bedrijfsbezoeken en bekenden uit de sportwereld", zegt bestuurslid Eddy Pater.
Op woensdagavond 16 september staat de bijeenkomst in het teken van Prinsjesdag en de Miljoenennota. "Zakelijk gezien een belangrijk moment om ons goed te laten informeren over de stand van de economie en welke gevolgen de inhoud van de Miljoenennota heeft", aldus bestuurslid Patrick Visch. "We zijn blij dat we deze bijeenkomst samen met de Rabobank Noord Veluwe kunnen organiseren. Econoom Pieter van Dalen van de economische denktank Kennis en Onderzoek van de Rabobank zal ons bijpraten over de belangrijkste ontwikkelingen."
Businessclub 't Harde is een snel groeiende club en kent inmiddels al zo'n 60 leden uit de hele regio. "Natuurlijk zal er op deze avond ook weer voldoende gelegenheid zijn voor de ondernemers om elkaar te ontmoeten en kennis te maken met nieuwe leden of introducees" geeft mede bestuurslid Ellen Grootkarzijn aan.
De avond start op 16 september om 20.00 uur. Vanaf 19.45 uur staat de koffie klaar op Sportpark Schenk aan de Bovenweg 8, 't Harde. Aanmelden of meer informatie over Businessclub 't Harde? Neem dan contact op met Patrick Visch via 06-12448821 of info@businessclubtharde.nl