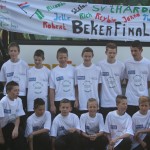 Afgelopen zaterdag 24 mei heeft 't Harde D1 de KNVB beker van de regio Oost gewonnen.
De finale werd op neutraal terrein in Bergentheim gespeeld tegen oude bekende Nunspeet D1. In de zinderende finale waren de eerste 10 duidelijk voor Nunspeet. Na de wat aarzelende start werd het heft door sv 't Harde in eigen handen genomen Uiteindelijk werd dan ook met een terechte 1-1 stand de rust in gegaan. De tweede helft werd er uit een ander vaatje getapt en werd
Nunspeet op alle fronten afgetroefd. Zowel tactisch als qua inzet was 't Harde de hele
tweede helft de meerdere van Nunspeet. De goede teamgeest en de wil om
te winnen waren uiteindelijk de ingrediënten om tot de welverdiende overwinning te komen.
Onder leiding van aanvoerder Maikel hebben alle D1 spelers afgelopen zaterdag het beste in hun naar boven laten komen. Samen met Noah,Twan, Ricardo, Stefan, Jelle, Rick, Roals, Stefan, Jelle, Jarno, Robbert en Reybin wisten ze de wedstrijd verdiend te winnen met een verdiende 1-4 einduitslag.
Ook het in grote getale meegekomen sv 't Harde publiek wist met d groen-witte clubkleuren, fakkels en vuurwerk de jongens zeer goed te ondersteunen waardoor de KNVB beker trots naar huis kon worden genomen.
Om maar aan te geven hoe geweldig het was om deel te mogen uitmaken van 't Harde D1 kunnen we het beste de volgende regels gebruiken:
Give your best shot,
Talk with your feet,
Play with your heart,
You are our champion
We are so proud of our boys!
Mede namens spelers, begeleiding, ouders en onze sponsors PGA Transport, Garage Sneller, Veluwe Keukenhuis, JPS Stoffering willen we dan ook iedereen bedanken voor jullie steun in de aanloop naar en tijdens de finale van de KNVB beker. Het was geweldig om mee te maken!