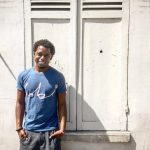 Na een bijzonder inspirerende avond met dirigent Pieter Jan Leusink mag de Businss Club N.V. op 25 oktober opnieuw een prominente gast uit de muziekwereld verwelkomen. MC Typhoon, in onze regio misschien beter bekend als Glenn de Randamie, heeft zijn roots op de Noord Veluwe liggen. Als kind is hij opgegroeid in 't Harde, als artiest is Typhoon vooral vanuit Zwolle bekend geworden. Inmiddels is hij een nationale bekendheid met optredens op de grote festivals en een enorme fanbase. De prijzenkast is gevuld met diverse awards en uitreikingen.
'We zijn zo'n 4 jaar geleden gestart met de Business Club en vanaf het begin heeft Typhoon op ons verlanglijstje gestaan', zegt bestuurslid en oud klasgenoot van Typhoon, Johan van Putten. 'In de afgelopen jaren is het ontzettend snel gegaan met de carrière van Typhoon. Het was daarom lastig om een gaatje te vinden in de agenda, maar het is gelukt!'
Typhoon zal spreken over zijn lokale achtergrond, maar ook thema's als leiderschap, samenwerken, groei, menselijkheid, eerlijkheid en natuurlijk 'lobi' (Surinaams voor liefde).
De gastheer van deze avond is BPM Media & Entertainment Facilities uit Wezep. Martijn Westerink en Arjan Immeker zijn van zogenaamde 'zolderkamerartiesten' met hun bedrijf in ruim 13 jaar uitgegroeid tot een nationaal boekingsbureau voor alles rondom Media en Entertainment. Het perfecte bedrijf dus om een avond met Typhoon in goede banen te leiden.
Ondernemers zijn op 25 oktober vanaf 19.30 uur welkom aan de Rondweg 2 in Wezep. Om 20.00 uur start het programma.
Inmiddels hebben zich al meer dan 100 ondernemers aangemeld, maar er bij zijn kan nog steeds.
Ondernemers die het evenement willen bijwonen of meer willen weten over de Business Club N.V. kunnen contact opnemen via www.businessclubnv.nl, via info@businessclubnv.nl of Marcel van 't Hul op telefoonnummer 06-12848500.