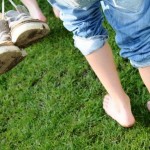 't HARDE – In september zullen weer de vriendinnendagen plaatsvinden in de kruidentuinen van landgoed Zwaluwenburg. Vriendschap verbetert je gezondheid. Dat staat vast. Geef daarom jouw vriendinnenclub op voor de gezondste vriendinnendagen in 't Harde op de Veluwe. Misschien win je zelfs gratis entree voor heel jouw vriendinnenclub.
De Vriendinnendagen vinden plaats op donderdag 1 en vrijdag 2 september 2016 van 10.00 tot 16.00 uur in de kruidentuinen van A. Vogel op Landgoed Zwaluwenburg, 't Harde.
De Vriendinnendagen van het blad gezondNU zijn gezond en gezellig tegelijk. Het zijn dagen om je kennis te vergroten over gezond leven, heerlijk te ontspannen en nieuwe energie op te doen in jouw eigen favoriete gezelschap. Dus neem je vriendinnen, je buurvrouw, je moeder of je (schoon)zus mee om er even gezond uit te zijn.
Wat wordt er deze dag gedaan?
– Workshop: maak je eigen kruidenthee
– Workshop: Yoga
– Fietstochtje naar Kasteel Zwaluwenburg
– Een heerlijke biologische lunch
– Een rondleiding door de tuinen en over het blotevoetenpad
– En tot slot, pluk je eigen veldboeket in de speciaal aangelegde bloementuinen.Bestel nu je kaarten!
De entree voor de Vriendinnendagen is € 19,95 p.p. Dat is inclusief koffie of thee met een gezonde snack bij ontvangst, een uitgebreide gezonde lunch, een hapje en een drankje en een goodiebag als je naar huis gaat. Meld je aan op de website www.gezondnu.nl/gezonduit.