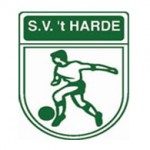 't HARDE – Mooi najaarsweer, prima kunstgras en twee voetballende ploegen. Dat beide teams vergaten te scoren in het eerste half uur nam niet weg dat de amusementswaarde hoog lag. Kansen die in aantal voor s.v. 't Harde vele malen hoger lagen, maar waarbij gezegd moet worden dat Hatto-Heim het betere veldspel had.
Het veranderde eigenlijk een beetje toen Hatto-Heim de voorsprong nam.
Een enorme droge knal die op de lat eindigde en door iedereen van s.v.'t Harde werd nagekeken, werd alleen door Niels van der Velde goed geanticipeerd en hij passeerde doelman Grootkarzijn op de juiste manier (1-0).
Hatto-Heim leek op rozen te zitten echter tien minuten later kwam s.v.'t Harde op gelijke hoogte toen Henk Elskamp een corner vanaf links op een vreemde manier met zijn hoofd toucheerde en de 1-1 was een feit.
Na de rust had s.v.'t Harde veruit het betere van het spel maar vergat het continue om de gelijke stand om te zetten in een voorsprong. Toch wisten de Groen-witten uiteindelijk de 1-2 te scoren uit opnieuw een corner waarbij uitblinker en "man of the match" Patrick van der Dragt de bal koppend achter de matig optredende doelman van Hatto-Heim wist te leggen.
s.v. 't Harde had gezien het verloop van de hele wedstrijd allang een ruimere voorsprong moeten nemen, maar het zat vooral jongeling Matthijs Engeltjes niet mee als het om afronding gaat. Neemt niet weg dat zijn fysieke inbreng op het middenveld, met name in aanvallend opzicht, zorgen baarde bij de tegenpartij.
Drie punten in de pocket, maar wat misschien wel veel belangrijker is dat het team na twee winstpartijen toch meer zelfvertrouwen uitstraalt. Iets wat meer brengt dan drie punten.