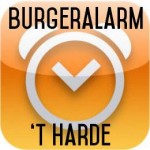 De vele inbraken op en om 't Harde hebben Rick van Velthuysen ertoe gedreven een burgeralarm te starten.
Rick van Velthuysen: "Heb de afgelopen 24 uur vaak kunnen horen hoe groot de angst is onder steeds meer inwoners van mijn dorp voor een mogelijke inbraak. Ik ken de onderbezetting bij de hulpdiensten en er blijft een discrepantie bestaan tussen de inbraakcijfers van de officiële instanties en de ervaringen van veel mijn dorpsgenoten. Lijdzaam toekijken is nooit mijn ding geweest en het is tijd dat we in 't Harde erop gaan toezien dat inbrekers bijvoorbeeld niet zo maar hun busje voor iemands huis kunnen zetten en onderwijl het hele huis leegroven, omdat niemand precies weet of dit nou wel of niet met toestemming van de bewoners gebeurt."
Daarom wil ik mijn reikwijdte op social media aanwenden om iedereen op te roepen om mee te doen aan het opzetten van de 'Burgeralarm 't Harde WhatsApp-dienst'. Heel simpel: stuur me jouw GSM-nummer naar mijn emailadres rick@rickvanvelthuysen.nl en de rest van de uitleg krijg je dan via WhatsApp. Het is dan de bedoeling dat we allemaal een oogje in het zeil houden. Zodra we iets verdachts zien moet dit gemeld worden via de Burgeralarm 't Harde-app en dat we desgewenst ook gecoördineerd in actie komen. Zo houden we ons dorp veilig, zoals dit jaren wél het geval is geweest. Wie doet er mee?